Kid's Club

meets on Wednesday nights

 from 6:45 – 8:00 PM!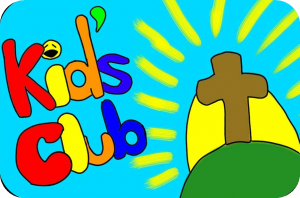 Kid's Club is for all children in Kindergarten – 5th grade and meets nearly every week there is school from 6:45 to 8:00 pm.  A meeting usually consists of a Bible story, singing,
snacks, games, occasional crafts, and a Bible lesson.  Please click here to register your child for Kid's Club!
If your child needs a ride to Kid's Club, please call van coordinator Sharon Frank before 4:30 PM Wednesday at 517-425-0634.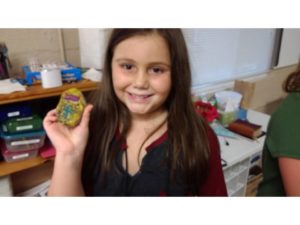 Kid's Club is scheduled to meet 2 Wednesdays in April – the 10th and 24th.  (There will be no KC 4/3 because of Spring Break and no KC on 3/17 due to Holy Week.)  All elementary students (K-5th) are welcome to come!  Each week we will have a Bible story, snacks, & prizes.  Kid's Club meetings also usually have a lesson and games and occasionally we have a craft or other special activity.  Kids Club meets from 6:45 – 8:00 PM, beginning and ending in the HFM gym.
On 4/10 we will be having an Easter party and talk about Jesus' resurrection!  On 4/24 we will be talking about the apostle Paul and how he came to know Jesus.  The memory verse for April (worth 15 pts. each week) is 2 Corinthians 5:17 If anyone belongs to Christ, then he is made new.  The old things have gone; everything is made new!  In crafts on 4/24 we will begin making a Mother's Day craft.
Bible Reading Bookmarks will be available each week to review the Bible story at home!  Bonus questions can be answered for 6+ extra points.
This year Kid's Club will offer KC points for attendance, Bible memo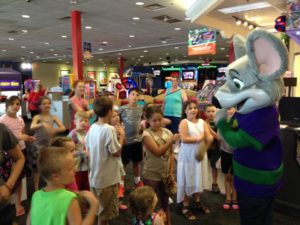 rization, bringing your Bible, bringing a visitor, and attending Sunday School.  KC points can be used to purchase prizes at any time.  The ultimate prize is a trip to Chuck E. Cheese on June 12, 2019 from 12:45 – 7:30 PM!  The Chuck E. Cheese trip costs 400 Kid's Club points.
KC points can be earned in the following ways:
            Good Behavior                       1-5 per week
            Come to Kid's Club                   3 per week
            Bring Bible to Kid's Club           5 per week
            Attend Sunday School              5 per week
            Saying a memory verse           12-15 per week said
            Bringing a 1st time visitor          10 per visitor
            Register for KC                         10 points
            Bible Reading Bookmark          Up to 6 points/week
            Bonus Worksheet                     Up to 20 points/month
For more information about Kid's Club contact Children's Pastor Jody Saunders at 517-918-2849 (call/text) or jodymsaunders@yahoo.com.
Special dates to be aware of:
On February 13 we will be making cookie and card deliveries to local shut-ins during Kid's Club.  A permission slip will be required for those making the deliveries.
If there are 3 or more inches of snow on February 20 we will have a sledding party during Kid's Club.  (Bring snow gear!)
We will have our annual Passover Meal (AKA Sedar meal) on March 27.
There will be no Kid's Club on Wednesday, April 3 due to Spring Break.
Our Easter Party will be April 10.
There will be no Kid's Club on Wednesday, April 17 due to Holy Week services (Good Friday, Easter, and more).
Our final Kid's Club for this school year will be on June 5.
Jr. Church
There are special services for children 4 years old through 5th grade during the 10:50 worship service.  Jr. Church kids meet in room 205 at the beginning of the service.  Children can be picked up at the conclusion of the service in room 205.
Each week in Jr. Church we sing, have a Bible lesson along with lesson related activities, and a snack.  If you have questions or would like more information, please contact Children's Pastor Jody Saunders at jodymsaunders@yahoo.com or 517-918-2849.
Sunday School
The Sunday School hour is from 9:50 to 10:40 am.  There are classes available for all ages, pre-school through adult.  All children meet in the middle of the upstairs rooms for singing and teaching the first twenty minutes, and then they are dismissed to classes:  Preschool-1st, 2nd-3rd and 4th-5th.
There is a 20 minute opening at the beginning of Sunday School (9:50 – 10:10 AM) where everyone meets in room 205.  From September – December we work on a Christmas musical performed during the Sunday School time in December.  From January – March we have a memory verse challenge where kids can earn fun parties by memorizing God's Word.
Nursery
The infant nursery is for those 0-1 years of age and meets in the lower level of the church in the room to the right of the bottom of the stairs.  The toddler nursery is for children 2-4 years old and is located in the lower level of the church, meeting in the remainder of the rooms.  The nursery is available during the 10:50 worship service on Sunday mornings, and also during the Wednesday evening services during the school year (for parents involved with the Wed. night services).
The Hillsdale Free Methodist Church takes part in the Hillsdale Community Kids College. This is a 5 day day camp that meets from 9AM – noon each day for children 7 – 14 years old.  Visit hillsdalecommunity.wix.com/kids for more information.
Vacation Bible School
VBS 2019 will take place June 17-21 from 9:00 – 11:30 AM each day.  All children 4 years old through entering 6th grade are welcome to attend.  More information will be available in May 2019.
Click here to check out some fun stuff for kids!