The Hillsdale Free Methodist Quiz Team competes from October – June each year with other Free Methodist Churches.  Bible quizzing is open to all 6th – 12th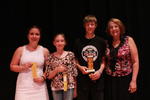 graders.  Regular practices are during the Sunday School hour from 9:50 – 10:40 AM.
For the 2015-2016 quiz year we will be studying the books of Acts in the 2011 edition of the NIV.
For more information about Free Methodist Bible Quizzing visit:  http://www.fmquizzing.org/

A current quiz schedule of practices and meets is listed below:
Bible Quiz Schedule 2014 – 2015
Acts NIV 2011
Subject to Change
Practice during Sunday School 9:50 – 10:40 AM each week
Sunday Afternoon Practices –  from 4:30-6:00 pm.
October
4:         Practice 4:30 – 6:00 PM
9:       Leave for West Branch 4:00 PM
10:       Conf. Quiz in West Branch, MI
            Quizzing on Acts 1-4
18:       Practice 4:30 – 6:00 PM
25:       Practice 4:30 – 6:00 PM
November
8:         Practice 4:30 – 6:00 PM
14:         Conference Quiz at Westland
22:       Family Quiz Practice 4:30 – 6:00 PM
December
5:         Regional Quiz in Anderson, IN
6:         Practice 4:30 – 6:00 PM
27:       Practice 4:30 – 6:00 PM
January
3:         Practice 4:30 – 6:00 PM
9:       Conference Quiz at Hillsdale
February
7:         Practice 4:30 – 6:00 PM
13:       Conference Quiz at Hastings
March
6:         Practice 4:30 – 6:00 PM
12:       Regional Quiz in Holland, OH
April
3         Practice 4:30 – 6:00 PM
9:       Conference Quiz in Spring Arbor, MI
Nationals will be June 27 – July 1, 2015 at Seattle, WA